Top 5 football (soccer) players today
could beat in future.
This was VERY hard to choose,the nominees were:Özil,Neymar Jr.,Iniesta,Xavi and Ibrahmović.At the end I have chosen Mesut Özil because of the difference in the game when he is or isn't playing.When he plays, the team gets in scoring chances with such an ease that it's incredible.
NUMBER 3
This one wasn't that hard, him or Ibrahimović,but after a quick thought,he has done so much for Spain and Barça that only Xavi could have done  so much for both,but Xavi is not on the same level as few years ago,and I am taking in account how are they in this very moment,and Iniesta is the second best midfielder at this moment.
He got before Özil because of his amazing goal versus England a few days ago.I mean,bicycle kick from 25 meters, come on, that is amzing ,even for him.If he didn't score that goal he would probably be equal to Özil in my eyes and make Number 5 and 4 decision even harder.He scores goals like no one else can, he is the probably the best striker that I have ever seen.Only Ronaldo(Brazil),Eto'o,Didier Drogba(because of 11/12 CL performances) and Messi are MAYBE at his level.
Zlatan Ibrahimović
NUMBER 5
NUMBER 4
THANK YOU FOR REDING FOLKS,AGAIN THIS IS MY LIST OF BEST PLAYERS..
Cristiano Ronaldo dos Santos Aveiro
BEST YOUNG PLAYER
THE best, both, midfielder and winger,the Balon d'Or winner '08,when he won pretty much every individual and team trophy and totally deserved it.Agile,strong,cannon in his legs,unbelivabely good runner,jumper and header,wide arsenal of tricks,unpredictable,cold blooded in 1 on 1,master of penalties,unique freekick technique that he invented.At this moment he is absolutely amazing,but still not at it best,but he will wake up beast inside him soon.Somehow didn't win the Balon d'Or in 10/11 season,when he was Pichichi in his second season in LaLiga with 53 goals in all competition and 40 in La Liga!Didn't win Balon d'Or in 11/12,in which he was leading Real Madrid to La Liga title with 46 goals in La Liga and 60 goals in all competitions,but this time I could understand why,because Messi scored more,but Messi won Balon d'Or 10/11 because Barcelona won La Liga,why couldn't he win it because Real won it?Scored in last 7 El Clasicos,scored 3 crucial goals for Portugal on Euro 2012,with many unlucky goal posts hit.Underrated player that has potential to be the best player in history of soccer,but he is always compared with Messi altough they are two diferrent worlds,but both are there to score goals,and they are doing it damn well.
NUMBER 1
NUMBER 2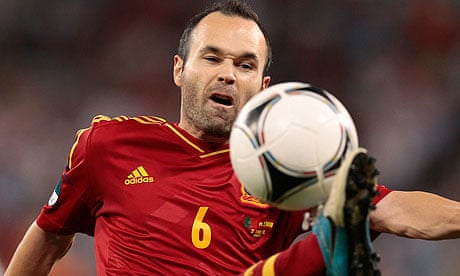 Mesut Özil
Neymar Jr.Playing for Santos F.C.Owner of Puskas Awrd for the Goal of the Year.Humiliates his opponents by going past them with ease and lots of tricks.Sometimes doesn't know when to stop the ball and pass it to a teammate in better position.
Lionel Messi
Andres Iniesta
He is the best wing striker ever to play this beautiful game.Small,agile,best scorer ever in single season,this year suprised me with freekicks scoring,which was mission impossible 2 years ago.More team-oriented than Ronaldo,works best in combination with Xavi and Iniesta,in my opinion at same level as Ronaldo but when both have they day Ronaldo is better.Messi is the best team work orientated striker,and he scored 76 goals in this year (not season) which is unbelievable.Often gives money to charity and has a great personality.Won Balon d'Or 3 times in a row,if he wins it this year it will be absolutely sensational,because that will be achievement that only Neymar Jr